One of the best things about working from home is not having to do the whole dress up thing. While I could sit around in my pjs, I find I'm not as productive when I do, and it can get awkward if someone comes to the door, so I tend to at least put on clothes that I wouldn't be embarrassed to wear out in public.
But, where most days you'll find me in yoga pants and some kind of geeky t-shirt, every once in a while I take on an on-site project where I need to look all office-ey.
Which is what I'm doing today. I actually really like the outfit I put together. The dress is a little shorter than I usually wear, and I wouldn't complain if it were a smidge longer, and I wish my boots were a bit taller so they didn't emphasize my already wide calves, but otherwise, it works… and the dress is super comfortable, so this might be a new staple.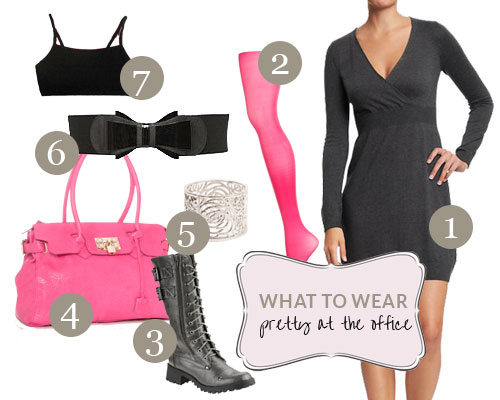 1. Cross-Front Sweater Dress (Heather Charcoal)
2. George Pink Tights
3. Black lace-up boots (these aren't exactly the ones I have, which I bought at a little store years ago…)
4. Pink Tote
5. Floral Cutout Bracelet
6. Black Patent Stretch Belt
7. Lace trimmed black bra top
Looking at it all together, I think next time I'd add a statement necklace, something like this, this, or even this. I don't own any of these, but that gun metal necklace totally needs to come home with me…